CAN THO - SOUTHERN VIETNAM
AT THE HEART OF THE DELTA OF MÉKONG
Can Tho
is a city located on the Hau Giang River in
southern Vietnam
. It is also
the largest city in the Mekong Delta region
. The city is famous for its floating markets, which are its main interest and explain the development of local tourism.
Can Tho is a very interesting stopover during your trip to Southern vietnam.
History of Can Tho
Can Tho has undergone many changes over time, both in terms of administrative boundaries and its name.
In 1739, the Can Tho region that we know today officially appeared on the map in Southern vietnam under the name Tran Giang. The city was founded as part of a process of clearing the region, after Dong Nai, Saigon and Ha Tien.
Later, Tran Giang became a strategic defence base thanks to its favourable position for inland transport in particular but also by land. It was also a place where pioneers from all over the country could gather.
The administrative boundaries were then changed several times, notably during the French occupation, then by the American imperialists and again thereafter until 1 January 2004 when Can Tho became the city in the region that was directly under the central government. To assume this role as well as that of the driving city of the Mekong Delta, Can Tho is in permanent development.
Concerning the name of Can Tho, its official origin is still unknown despite three versions that come back regularly.
The first version says that it was Emperor Nguyen Anh, who later became king, who gave the name "Cam Thi Giang" ("the river of poetry and music") to the river after falling under his spell, and that this name spread to later give "Can Tho". Nguyen Anh is said to have given the river this name when he was on mission in the south of the country and passed through several regions of the Mekong Delta. The beauty and atmosphere of the place would have inspired him to use this name.
According to the second version, the name "Can Tho" would come directly from two specialities of the Southern vietnamese region: parsley (rau can) and aromatic herbs (rau thom). The inhabitants would have combined these two names to give "Can- Thom", which later became "Can Tho". Moreover, the merchants who sold these products on their boats had songs dedicated to these products:
"These parsley and aromatic herbs,
Take some. Don't delay buying them."
"Parsley and aromatic herbs
Are they planted in large quantities in this region?"
Finally, the third version says that the inhabitants of the region used to call arroyos (rivers) according to the aquatic species or minerals that were present in large quantities. Many "nandidaes" (freshwater fish species) were present in the Can Tho arroyo and the Khmer name for "nandidae" is "Kìn Tho". Phonetically, it looks like "Can Tho" and the name would then be derived from it.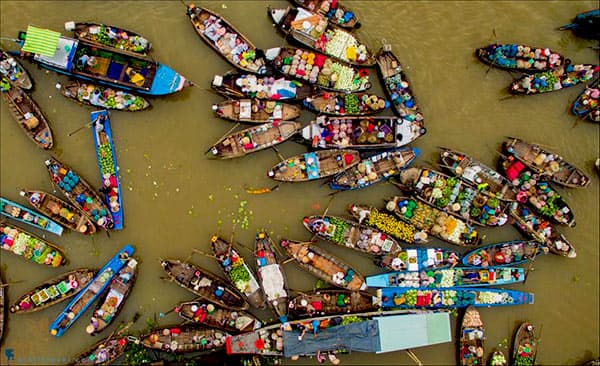 Cai Rang floating market in Can Tho
What to do in Can Tho?
Can Tho has therefore undergone many changes and disruptions during its history, but today it enjoys a unique culture and identity, making it one of the major destinations in southern Vietnam.
Can Tho's reputation is mainly based on its floating markets. Each year, they attract many visitors and allow you to taste many local products as well as to dive into the heart of local daily life. Whether you consume it or not, it is still an incredible spectacle.
Cai Rang Floating Market
The Cai Rang floating market is the largest in the city. Cai Rang is a district of Can Tho. Every day, hundreds of boats sail the river to sell their products. These boats vary in size, some are quite small while others are not insignificant. Boats may have a peak that indicates what they are selling, with product samples. The main products that can be found on these boats are fresh fruit and vegetables, Vietnamese coffee and local dishes prepared on board.

Not far from there is also the land market of Cai Rang. There are also local products and souvenirs.
Phong Dien floating market
The floating market of Phong Dien offers a style that can be more "local" than that of Cai Rang, characterized by a quieter pace and mostly smaller boats. However, the products sold are relatively similar.
In addition to floating markets, Can Tho has other interesting assets.
A walk through the streets of the city
Walking through the streets of the city is a very effective way to immerse yourself in the local and unique culture of the place. Going through the banks and local markets is essential when visiting Can Tho. Ninh Kieu Park, which was before a wharf, offers a very pleasant setting to sit, relax and observe the boats of the floating market with an outside view. This park, surrounded by plants, also features a 7.2 m high Ho Chi Minh sculpture.
Going through Ba Trung Street, which offers several hotels, cafés and restaurants, is interesting, especially at night when it is lit by many lights and the Can Tho Bridge projects magnificent and visible lights on the water.
If you like old architecture, don't miss Binh Thuy's old house. You will discover an original colourful architecture, with Vietnamese and European elements, in a French architectural style. This house was built by the Duong family in 1870 and has been passed down from generation to generation. Some members still live in the back part of the house today.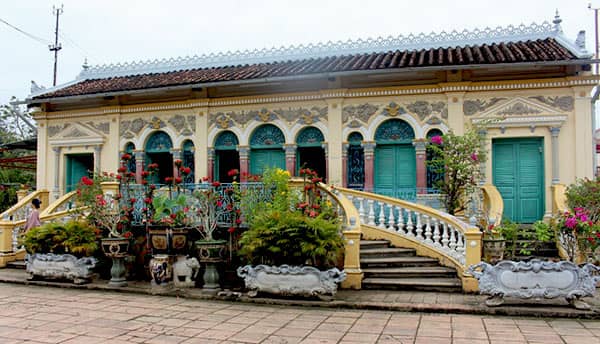 Old house of Binh Thuy
Temples and pagodas
The city also has several temples and pagodas.
One example is the Ong temple, decorated inside with works of art and statues representing religious deities. The temple is well maintained and there is a significant presence of incense.
At the pagoda level, it is possible to visit the Quang Duc pagoda, which is near the water and has a statue of Buddha at the top of a lotus surrounded by flowers, but also the Munirangsyaram pagoda, a Khmer pagoda where several monks still live who will be delighted to chat with you.
Can Tho Provincial Prison
For a moment full of emotion, you can visit the Can Tho Provincial Prison. Built during the years 1876-1886 by French colonialists with a surface area of 3,800 m², this prison was a place of detention and torture. It was recognized by the Ministry of Culture and Communication as a national historic relic in 1996.
Enjoy local cuisine
Finally, the gastronomy of Can Tho should not be neglected. Surrounded by rivers, the city has fertile land and offers several specialities from southern Vietnam with fresh and local produce. Pancakes in the Mekong Delta region are larger than in other regions, and may contain vegetables, pork and shrimp.
Some tips during your stay in Can Tho
If you want to take pictures in local markets, don't stay too long in front of a merchant's location because you may cause them to lose potential customers who have not seen them.
If you are a dessert lover, don't hesitate to try chuoi nep nuong. It is a sweet dish with bananas covered with a layer of sticky rice cooked in coconut milk.