CHAU DOC - SOUTHERN VIETNAM
A CHARMING DESTINATION FOR INCONTESTABLE NATURAL AND CULTURAL RESOURCES
Chau Doc is a city in An Giang province located in the Mekong Delta region of southern Vietnam. It is a border city in Cambodia. Thus, many travellers arriving from Cambodia return to Vietnam via Chau Doc, which is also 250 km from Ho Chi Minh City and is located near the Vinh Tê Canal and the Hau Giang (a branch of the Mekong River).
Chau Doc once belonged to the kingdom of Fou-nan. It was only 300 years ago that the region became Vietnamese. Today, it is an excellent destination in Southern Vietnam for all nature lovers.
What to do in Chau Doc?
Mount Sam
Recognized as a national tourist area, Mount Sam is 284 m high and surrounded by beautiful natural landscapes. It is an important religious place for the local population but also for Vietnamese in general. Indeed, this mountain shelters more than a hundred temples and pagodas. Many Vietnamese from Southern vietnam and the country in general visit these places of worship all year round. Here are some examples:
Tay An Pagoda
This pagoda is located at the foot of Mount Sam. It is one of the most original places of worship on Mount Sam thanks to its architecture combining Buddhist and Hindu influences (it is the first building in the country to combine these styles).
Built in 1847, this pagoda is the refuge of 200 statues, most of them very nicely decorated. At the entrance of the pagoda you can find the statues of a black elephant with 2 tusks and a white elephant with 6 tusks (it is said that Buddha's mother saw an elephant with 6 tusks in her dreams before giving birth to him). We can also see 7 statues of snakes (Buddha was saved by a snake during a storm).
The Temple of the Goddess Xu
A few meters from Tay An Pagoda is the temple of Goddess Xu. Originally built in 1820, the current version of the temple dates from 1972.
The temple houses a statue, made of black sandstone and probably of Khmer origin, representing a character with curly hair. It would be a figuration of Shiva, a Hindu deity. This statue, clad in multicoloured ornaments, is at the heart of several legends.
The temple is very popular with the Vietnamese, especially during the pilgrimage period when offerings multiply very quickly.
The Mausoleum of Thoai Ngoc Hau
Only a few metres away once again, this mausoleum is dedicated to Thoai Ngoc Hau (1761-1829), a Mandarin from the court of Hué. He was responsible for the construction of the Vinh Tê Canal, which took place when he was in charge of governing the region. This canal, approximately 100 km long, marks the border with Cambodia.
The monument has remained in very good condition since its construction. It is surrounded by centuries-old trees while the steps to access the tomb were carved from red stone.
Mount Sam and its religious buildings are a major tourist attraction for Chau Doc and Southern vietnam, but we will see that it is not the only one.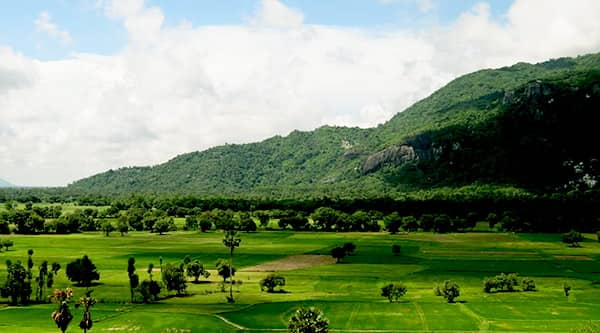 Mount Sam in Chau Doc

The Tra Su Cajeputiers Forest
This forest of about 850 hectares shelters nearly 140 plant species (22 trees, 13 aquatic plants,...), 70 species of birds, 25 species of reptiles and amphibians, 20 species of fish and 11 species of mammals. The biodiversity present in this natural reserve is extraordinary and preserved. Cajeputiers are the most common species, with the highest reaching heights of about 10 m.
The best way to visit this forest is undoubtedly by boat following the watercourse crossing the forest. This watercourse is nicknamed "green path" thanks to the hyacinths that invade it. The calm of this place is undisturbed and you will enjoy a truly magical moment that you will remember forever.
An observatory is also present on site and allows you to enjoy a panoramic view of the entire nature reserve and the green colour extending as far as the eye can see.
The floating village
The floating village contains floating houses but also fish cages (it is also the fish farming village with the most fish cages in the entire Mekong Delta).
Hundreds of rafts pass through this village in the morning, which offers a unique spectacle. It is also possible to attend and experience the fish farming process. Each fish farm can produce up to 60,000 fish per year, which is a very impressive number.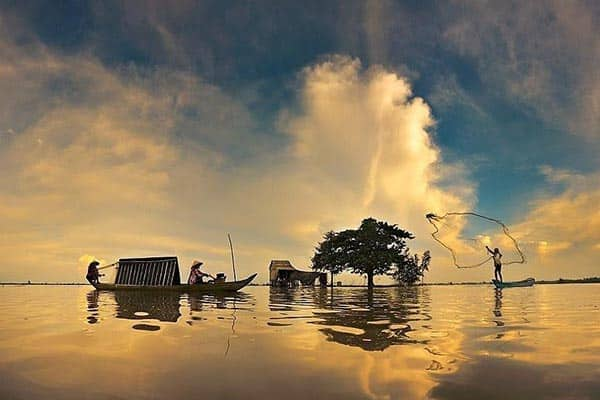 The floating village in Chau Doc

The Ehsan Mosque
This is the mosque closest to Chau Doc. It is located in a Cham village (originating from the kingdom of Champa). To get there, you have to cross a river and pass through the village, which will also seduce you with its warm atmosphere, its families and its street vendors.
Strolling in a boat
A boat trip to Chau Doc allows you to discover both the city and the houses on stilts but also the local floating fruit and vegetable market.
Gastronomy in Chau Doc
During your stay in Chau Doc you will have the opportunity to taste dishes such as fish noodles, shrimps, frogs, eels, seven-flavoured beef,...
Some tips during your stay at Chau Doc
- Chau Doc offers you the opportunity to admire a sunset, mixed with the landscape offered by the Mekong Delta... A must if you are on site during your trip to Southern vietnam!
- Chau Doc is not limited to a border with Cambodia. On the contrary, the city has many assets that deserve to be highlighted.