DONG VAN - NORTHERN VIETNAM
AN INCREDIBLE GEOLOGICAL PARK COMBINING LANDSCAPES AND ETHNIC MINORITIES
Located in northern Vietnam, in Ha Giang province and near the border with China, Dong Van is a popular geological park for its sublime and varied landscapes.
The Dong Van Geological Park extends over 4 districts: Quan Ba, Yen Minh, Dong Van and Meo Vac. This park, recognized by UNESCO in 2010 as one of the most beautiful geological parks in the world, has an area of 2,356.8 km².
This region is also famous for its place in the history of the Hmong. Indeed, it was through Dong Van that the Hmong made their first migrations from southern China to northern Vietnam. The first migration took place about 300 years ago. The Hmong left Guizhou to settle between Dong Van and Meo Vac. The second migration took place about 200 years ago, when several Hmong families left China to settle in the mountains north of Bac Ha and became the flowering Hmong today.
What to do in Dong Van?
Sublime landscapes of Northern Vietnam
The landscapes of the Dong Van Geological Park are undeniably magnificent. The presence of a karst massif and canyons surrounded by high hills make this place a real natural beauty. In addition, there are rice fields that extend as far as the eye can see and complete this already incredible landscape.
Thus, during a trip to Northern Vietnam, passing through Dong Van allows you to admire this unique natural spectacle, enjoying many views and breathtaking panoramas.
One of these most famous points of view is Don Cao, which is a French fort that offers an overview of the region and its many landscapes, its sugar loaves,...
The Lung Cu Flag Tower is another essential viewpoint of the region. It reaches a height of 1,700 m and is the northernmost point in Vietnam. A huge 54 m² Vietnamese flag is present at the top of the tower.
Land of ethnic groups in Northern Vietnam
Another important point of Dong Van is the presence in the region of various minority ethnic groups in the country. Indeed, during your presence on the spot, you will have the opportunity to meet members of the H'mong, Tays, Lolo, Han, Daos,...
The village of Lung Tam, populated by the H'mong, Han and Lolo, is located near Dong Van and provides an opportunity to acquire souvenirs such as handicrafts typical of these different ethnic minorities.
Sa Phin is a very important commune for the H'mong because it has housed the palace of King H'mong since the 1920s.
Finally, the village Sung La is another village characteristic of the H'mong, which allows you to enjoy nature and simple things like vegetable gardens, flower fields,...
To learn more about the different ethnic groups, their culture, daily life and traditions, you have the opportunity to spend a night with a local resident in Dong Van. This will allow you to exchange with the locals and share the cottage and meal at their home. These moments of sharing generally remain forever etched in the memory of visitors, especially since the region is not invaded by tourists, which allows the traditional houses of the ethnic groups to keep their authenticity and charm.
The old town of Dong Van
The old town of Dong Van is also very interesting to visit and discover. Several buildings were built by the French in the 1880s and are still in use today. The construction of several old houses dates back about 200 years. These houses have one or two floors, often with a suspended lantern. The old quarter is very colourful, thanks to the facades of the houses or the traditional clothes of the different ethnic minorities. These colour blends are also found very well in the Dong Van market, where the locals meet to exchange, stock up on various goods and chat quietly in a festive and very pleasant atmosphere.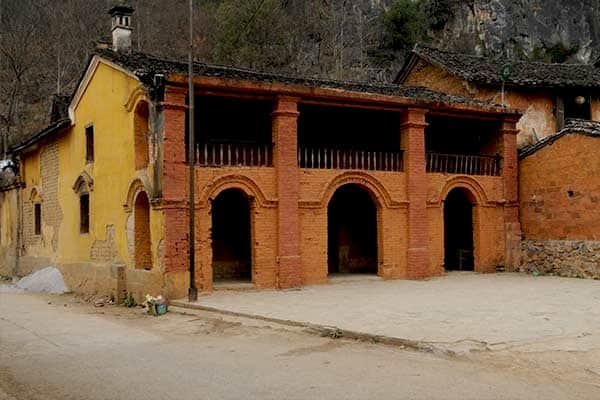 Old house in Dong Van
Gastronomy in Dong Van
During your visit, including a night in a homestay in Dong Van, you will have the opportunity to taste several local specialties prepared by locals.
Each ethnic group has its own typical dishes which allows to vary the flavors. Trung cuon, a steamed egg, can be used as an appetizer while tau chao is a very nutritious soup that is appreciated even more when the temperature is not very high.

The com lam, glutinous rice cooked in bamboo, combines quantity and quality which generally delight tourists who have the chance to taste this dish.
Other specialties are also worth it, such as fondue mixed with beef, chicken and vegetables, grilled seaweed, ...
Some tips during your stay in Dong Van
- The Dong Van Market is held every Sunday. If you can visit the area that day, do not hesitate because this market is truly a unique sight in Northern Vietnam.
- Dong Van can be discovered and appreciated in every possible way, but if you are a fan of two wheels, do not hesitate to explore the region and the geological park during a motorcycle trip in Northern Vietnam. Indeed, with your motorcycle you will be able to enjoy a total freedom to discover incredible passes and valleys, in perfect harmony with the nature.