LAN HA BAY - NORTHERN VIETNAM
LITTLE SISTER NEAR HALONG BAY
Lan Ha, the alternative of Halong Bay
In addition to Halong Bay, the islands of Lan Ha Bay are covered with trees and vegetation. A peaceful sea with small fishing villages separated from the rest of the world, in the North of Vietnam.
The density of the limestone islands is quite high and still very primitive. They divide the sea surface into small bays. Many lagoons and caves have not yet been discovered. There are hundreds of islands with many shapes that are named after the imagination of the locals: the island of Guoc (clog), cave Doi (bats)... The stalactite caves, the beauty of Halong, are also present in Lan Ha, such as Ham Rong Cave, Dau Ca,....
Unlike Halong Bay, Lan Ha Bay has 139 small beaches of golden sandy beaches. Many sandy beaches stretch between two rocky mountains, quiet and without large waves. In the blue waters of the beaches of Van Boi and Van Ha are colored coral reefs where you can dive into the coral.
With a cruise in Lan Ha Bay, visitors can make excursions into the bay's ravines, visit caves, pearl farms or rest on the beach, which adds a heavenly dimension to a trip to northern Vietnam.
What to do in Lan Ha?
Nam Cat Island
Nam Cat is an ideal destination for adventurous travellers thanks to its forests and marine environment. The beach is about 500 m long and has white sand and calm water, which is ideal for swimming, kayaking, fishing and scuba diving. Three large wooden houses on stilts and six bamboo motels that allow you to immerse yourself in nature. You will have the opportunity to taste Cat Ba seafood and explore the serene waters of small fishing villages. Nowadays, tourism on Nam Cat Island is growing, which helps to preserve and honour the island's hidden beauty.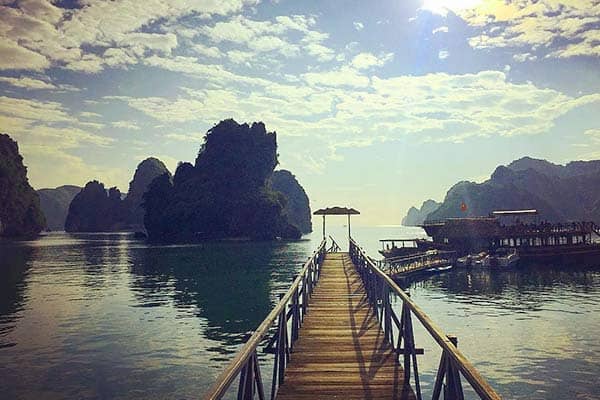 Nam Cat Island in Lan Ha Bay
The Island of the Monkeys
By taking a boat from Ben Beo Harbour for 10 minutes, you can reach the Monkey Island (also called Cat Dua - "sand and coconut tree" in the past). Currently, there are more than 30 monkeys in Cat Ba National Park. You can play with them, feed them bananas, apples or candy.
Van Boi Beach
Van Boi is one of the best places to relax with white sand and clear water. The waves are rather calm, which is good for diving into the coral and swimming. In addition, you can relax by swimming on the beach and watching the beauty of the coral. This beach seems to be spared from the noise and bustle of modern life.
Turtle Island
In front of Van Boi beach, there is a small island shaped like a turtle swimming. It is like a masterpiece of the "forgotten paradise".
The Strong Cannon
Built from 1942 as a landmark, the fort is located on top of a 177-metre hill overlooking Lan Ha Bay. It is an ideal place for trekking. From the fort, you can enjoy panoramic views of the bay and Cat Ba Island with small houses and fishing boats.
Opening hours: every day from 8am to 5pm
Admission fee: for adults: 50,000 VND / person; for children: 20,000 VND / person
Electric car expenses: 50 000 VND / person
Visiting costs by the observatory: 5 000 VND / person
Some tips during your stay in Lan Ha Bay
The best time to go to Lan Ha Bay is in summer, the weather is always sunny, ideal for swimming and boating on the bay. This is what you need to make the most of your trip to Northern Vietnam.