About us
Learn more about Vietnam Exploration
Created by a team of experienced guides...
... and passionate about exploring the beauties of their country, Vietnam Exploration has the ambition to accompany you to open Vietnam off the beaten track and make you meet the inhabitants of the whole country !
The word of Hung, the founder: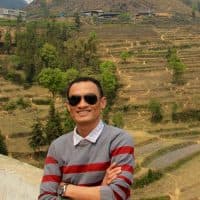 Before being creators and travel consultants, we had the opportunity to travel all over the country and share unforgettable moments with friends.
The will to make you discover a nature still miraculously preserved, to savour the hospitality, the smile, the delicacy, even the innocence of its people, our style, the different destinations proposed, all this contributed to the creation of Vietnam Exploration.

Phone:+84 98 973 8086
Daniel Rébillard, our correspondent in France: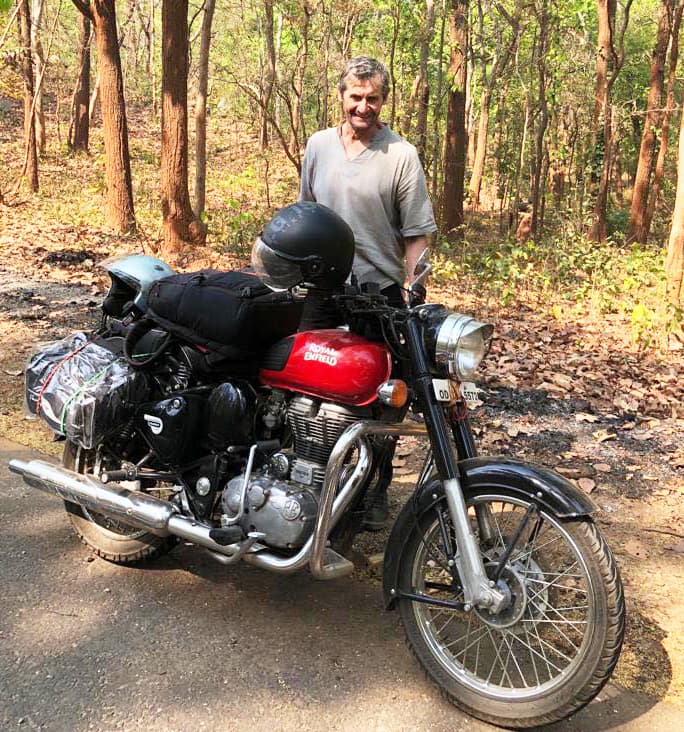 We met in 2011 during a motorbike trip in northern Vietnam. At that time, we were travelling in Minsk, this famous Russian motorcycle: and his passion for Vietnam came to him like that... Since then, we regularly share trips together combining magnificent landscapes, roads at the end of the world, magical encounters with the inhabitants... without forgetting what he also appreciates a lot: the delicate dishes of our Vietnamese cuisine! He will be happy to answer all your questions!
Email:[email protected]
Phone:+33 6 07 73 73 75 13
Then why go on a trip with us ?
Vietnam Exploration, 100% Vietnamese agency
Based in Hanoi, you will meet the designers of your trip as soon as you visit our agency.
They will be at your disposal, without intermediaries and at no extra cost, to ensure the implementation of your trip.
Thus, by choosing the services of a local company, you are providing support to the country you are about to explore.
A personalized trip according to your wishes and expectations
Together we build your journey, the one you have decided to accomplish.
Programs and activities designed by us will be offered to you.
But you can then submit all your requests: the number of participants, the duration, your interests, your budget,...
Vietnam Exploration will then submit you a unique, personalized trip, adapted to your specific needs.
Vietnam Exploration, a local expert
Our in-depth knowledge of local destinations and culture will allow you to enrich your own experience.
A trip organized by Vietnam Exploration is not only about enjoying Vietnam's diverse landscapes, but also and above all about interacting with people, learning from their history, sharing their way of life and daily life.
Vietnam Exploration, a whole team at your service!
The travel consultant, the guide, perfectly French-speaking and with several years of experience in the field, but also an unfailing logistics, will constitute all the necessary assets for the success of your trip.


What we recommend to discover an authentic Vietnam :
Vietnam by motorbike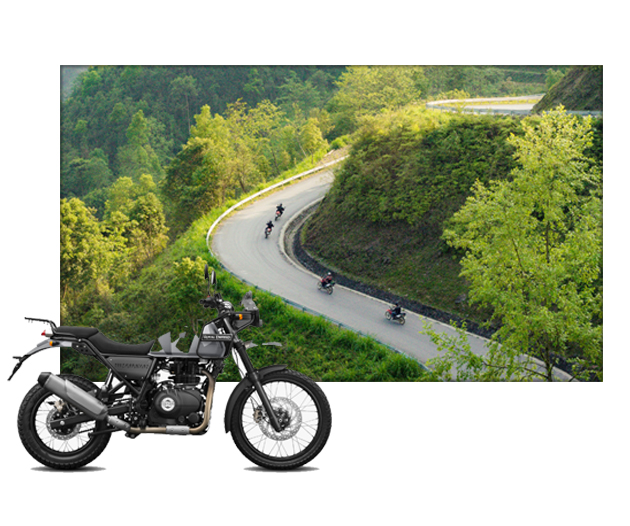 Travelling by motorcycle is discovering the country at the rhythm of the Vietnamese. The motorbike allows us to travel through the regions in depth. For the northern mountains, it is probably the most practical and exciting means of transport ! You will discover exceptional places in Vietnam that are inaccessible without a motorcycle !
Travelling by motorcycle is the freedom to move anywhere and anytime ! Travelling by motorcycle is also living a great adventure in beautiful places without too many tourists!
Meet the local population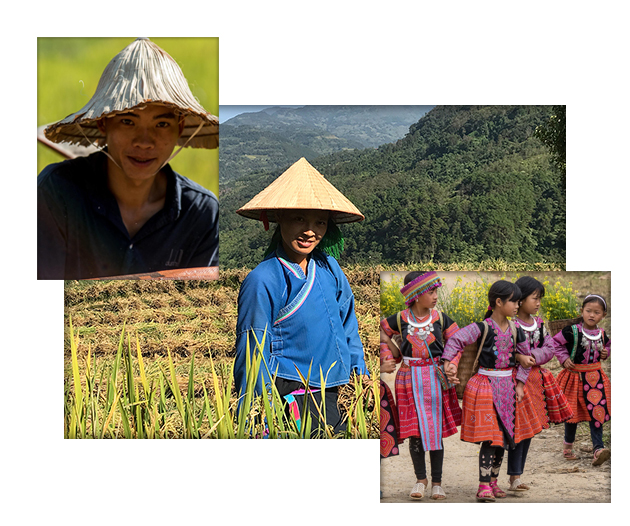 The real wealth of Vietnam is its people. Our trips are therefore accessible during meetings with the local population with nights at the inhabitant's home and many activities with ethnic minorities!
Sharing unforgettable moments with the locals to discover a new culture and a different way of life !
At the rhythm of the trip and with various immersion activities, you will be invited to meet the Vietnamese population to share with them experiences as enriching as they are moving.
Hiking and trekking in Vietnam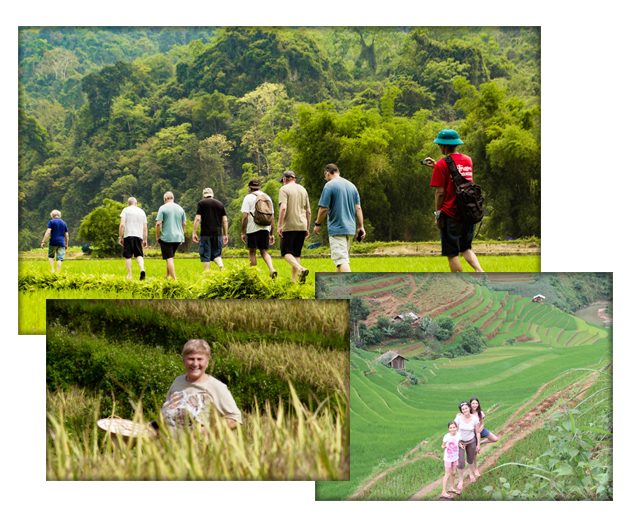 For lovers of walking, Vietnam and especially the North is a great playground.
When we think of "traveling in Vietnam", the first images that come to mind are those of sublime landscapes of terraced rice fields, rocky peaks bathed in mist, the sweetness of the looks and smiles of the Vietnamese, hidden under conical hats.
We propose itinerant tours of several days in ethnic minorities! Leave and discover Vietnam as you have never seen it before through hikes of one or several days to enjoy the beautiful landscapes and typical places of Vietnam.
The essentials in Vietnam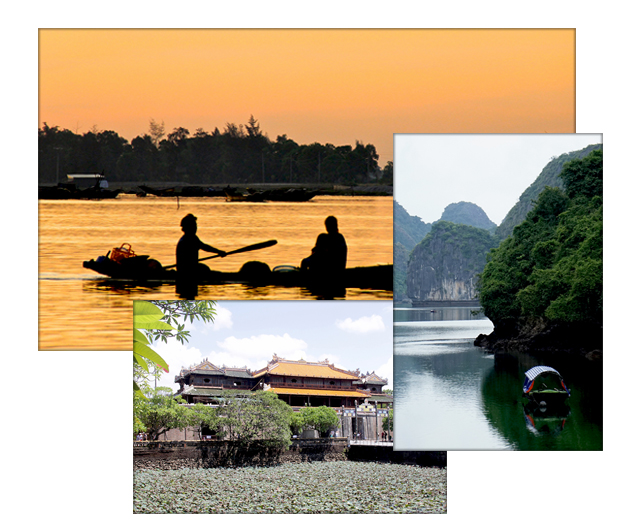 Reflecting an eternal Asia, Vietnam vibrates with authenticity and reveals its beauty miraculously preserved despite the wars of the last century.
Here, everything is glittering rice fields, Buddhist temples standing on street corners, craft villages, majestic karst peaks, idyllic beaches, conical hats and gastronomic flavours.
Ha Long Bay, Ninh Bình, Hanoi ... For all these, we offer private and exclusive experiences. The goal is to enjoy these exceptional sites while avoiding the beaten track !