PHU QUOC - SOUTHERN VIETNAM
IT'S NOT ONLY A PARADISE ISLAND
Phu Quoc
is the
largest island in Vietnam
. It is part of an archipelago of 22 islands dependent on the province of Kien Giang. Located in the extreme southwest of Vietnam, the island of Phu Quoc is three times further from the Vietnamese coast than from the Cambodian coast, which is only about 12 kilometres away.
Its enormous tourist potential and natural assets have earned it the nickname of the "emerald island". 70% of the island's territory has been protected since 2001 with the creation of the Phu Quoc National Park, which helps to preserve this remarkable site in
Southern Vietnam
.
History of Phu Quoc
The island of Phu Quoc was not always Vietnamese. Indeed, until the 18th century, the island was Cambodian. This has been the subject of a major dispute on the part of Cambodia. The Khmer Rouge (a political movement that ruled Cambodia from 1975 to 1979) seized the island on May 1, 1975, but it was quickly taken over by Vietnam.
This island is also known in Vietnamese history as it was used as a refuge by Prince Nguyen Anh (who later became Emperor Gia Long) during the Tay Son rebellion in 1771. He was supported by Pierre Pigneau de Behaine, a French bishop, before re-conquering the country.
The beaches of Phu Quoc
The incredible beaches of Phu Quoc are undeniably the best asset of this Southern vietnamese island. Here are some examples:
Bai Sao beach, in the south-east of the island, is characterized by 7km of white sand in the shape of a curve. It is far from the other attractions of the island and the water is turquoise. Defined by many as the most beautiful beach in Phu Quoc, it is an ideal beach to enjoy many water sports.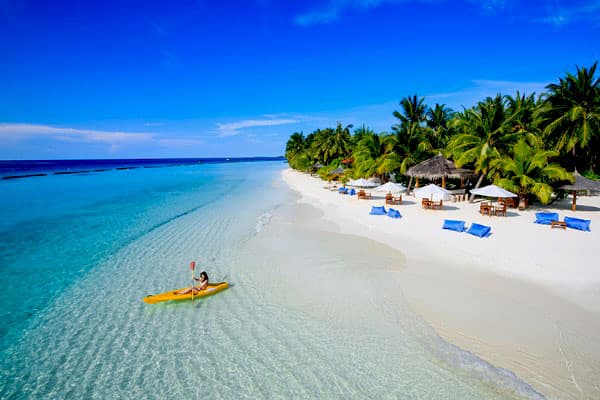 Beach of Stars (Bai Sao) in Phu Quoc
Not far from Bai Sao beach, you can find Khem beach. It looks like Bai Sao beach with white sand and turquoise water. However, it is less visited, and you can practice activities such as discovering the fishing village, night fishing for squid, fishing for fish,...
Truong Beach (or Long Beach) is a beach extending for nearly 20km, making it the longest beach in Phu Quoc. The main areas are occupied with entertainment and food stands, while some parts of the beach are deserted with only a few palm leaf fishing huts.
There are also many other beaches to discover, such as Dai Beach, which is in the top 10 most beautiful beaches in Asia according to a recent ranking by Telegraph magazine, and where you can learn about pearl culture after a tour of the farms.
All these beaches are ideal for enjoying a variety of water sports and seaside activities, or admiring unique sunsets.
What to do in Phu Quoc?
Underwater diving
Scuba diving in Phu Quoc is particularly popular on the island, whether on the An Thoi Archipelago in the extension of the southern tip of the island or to the northwest towards the coral reefs of Hon Doi Moi.
Night market
The Duong Dong night market is also very famous on the island. This market is very lively and many different species of crustaceans are on sale. You can therefore taste local specialities while buying souvenirs that remain in the theme of shells, pearls,...
Phu Quoc Prison
The visit to Phu Quoc prison is an extremely moving and enriching visit, which traces the wars that Vietnam has experienced, and the lives of Vietnamese people during these wars. The prison was closed in 1954 after the signing of the Geneva Agreements, but was reopened and even expanded during the Vietnam War, before closing definitively in 1973. There is evidence that severe torture was practised in this prison. The prison covers 40,000 m² and there have been more than 40,000 prisoners in recent years. Today, it is open to visitors wishing to learn more about these difficult periods in history.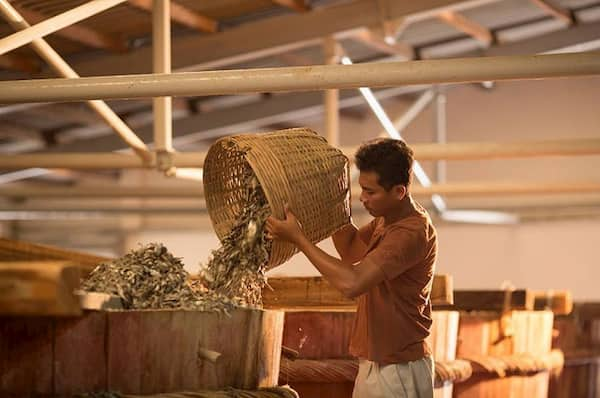 Fish sauce factories in Phu Quoc

The specialities of Phu Quoc
Phu Quoc's reputation is also due to pepper and nuoc mam (fish sauce).
Concerning pepper, it is the main spice on the island of Phu Quoc. There are three types of pepper: red pepper, white pepper and black pepper, which is the most common. The island produces more than 1,000 tons of pepper per year and has many plantations. It is possible to visit some of them, such as by chance the Ngoc Ha farm, near Duong Dong.
Fish sauce is a sauce that is extremely present in Vietnamese cuisine in general. This sauce is made with a specific fish species that ferments in wooden barrels with salt for 1 year.
As with pepper, it is possible to visit some nuoc mam factories in Phu Quoc, in order to discover this traditional profession and the different stages of the process. The three main factories are Khai Hoan, Phung Hung and Thinh Phat.
In summary, Phu Quoc Island is a very pleasant destination in Southern vietnam. The island has many different facets to offer and will allow you to return from your trip with countless memories that you will not soon forget.
Some tips during your stay on the island of Phu Quoc
- Take advantage of all these wonderful beaches to admire a unique sunset, especially on Truong Beach.
- Try to practice squid fishing one evening with locals. The meal changes flavour when you catch it yourself!
- The island is destined to experience mass tourism in the coming years, so make the most of your time on the island during your trip to Southern Vietnam.