MUI NE - SOUTHERN VIETNAM
A BALNEY STATION WITH MAGICAL AND UNIQUE LANDSCAPES
Mui Ne
is a seaside resort in
Southern Vietnam
that is part of the city of Phan Thiet, itself capital of Bình Thuan province. Phan Thiet is 200 km from
Ho Chi Minh City
. Mui Ne has long been a fishing village. The tourist activity of the destination is indeed quite recent.
What to do in Mui Ne?
Like many seaside resorts in Southern Bietnam and in general, one of the main activities available in Mui Ne is to take advantage of the beach to recharge your batteries in a pleasant setting. But Mui Ne offers the opportunity to do many other things.
Kitesurfing & windsurfing
Kitesurfing and windsurfing in Mui Ne is extremely popular, the seaside resort being very often considered as the best location for kitesurfing in Vietnam but also for other water sports. This location has a strong worldwide reputation for all practitioners of this kind of sports. You will find on site teachers at your disposal as well as all the necessary equipment, all on a paradisiacal beach.
The sand dunes of Mui Ne
Mui Ne has the particularity of having sand dunes, not far from the beach.
First there are the red sand dunes, about 11 km from the beach. This stretch of red sand so close to the beach is an extraordinary sight. It is possible to walk around these dunes, but also to rent plastic mats in order to hurtle them down.
Further on, about 35 km from the beach, are the white sand dunes. Again, this is a rare and extremely interesting phenomenon. This time, there is the possibility of taking a jeep or quad ride on the sand, which is an original experience. You will also pass in front of lake of Lotus, bordered by stretches of white sand.
To explore the dunes in a different way, you can rent a motorcycle (or come to Mui Ne directly with it) to enjoy these landscapes according to your desires and in complete freedom.
Visit the fishing village
The local fishing village has several assets which makes it an interesting attraction.
At dawn, you can admire the return of fishing boats. The premises will then unload the cargoes. Some will be sold directly on site, while others will be used to supply the local fishermen's market.
This market is an opportunity to meet the local population and observe them prepare their stalls and sell freshly caught fish and seafood. The atmosphere of this market is unique and essential during your stay in Mui Ne.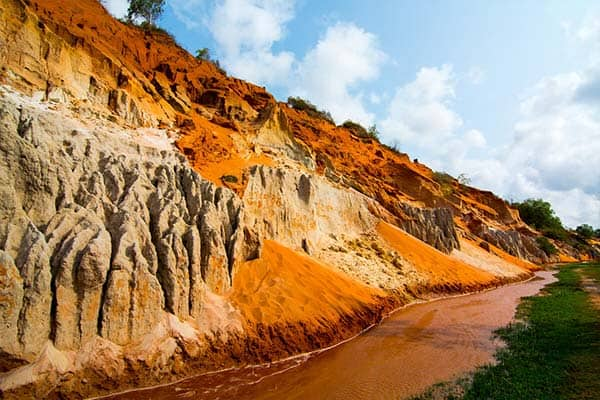 The fairy stream in Mui Ne

The fairy stream
This stream, located about 20 km from the city, offers an incredible landscape. It looks like a canyon with splendid colours. In addition, the orange sand bottom gives the same colour to the water.
The walk is done directly with your feet in the water, which flows gently, making it very easy to walk and visit. As you move forward, you can admire the superb relief formed by nature and erosion.
Some tips during your stay in Mui Ne
- Phan Thiet has workshops for making nuoc mam (a fish sauce very popular in Vietnamese cuisine, which you will find in many of Mui Ne's dishes). It is possible to visit these workshops in order to assist in the manufacturing process of this Vietnamese speciality so do not hesitate to visit them during your trip to Southern vietnam!
- Mui Ne offers various favorable positions to admire beautiful sunsets. You can do it mainly from the red sand dunes, or directly from the beach. Of course, you have to get up early to enjoy this show, but it is definitely worth it and will allow you to start the day with a morning walk to fully enjoy the market.
- Thanks to the market or the various restaurants in the city, Mui Ne will also satisfy you gastronomically speaking. Many recipes will of course be based on seafood and fish, such as lau tha, a fondue that blends seafood with vegetables and aromatic herbs. However, if you feel like it, you can also try more unusual dishes made with crocodiles or snakes.