BEN TRE - SOUTHERN VIETNAM
INCREDIBLE LAND OF COCOTIERS AND FRUIT
As a province of the Mekong Delta in
Southern Vietnam
,
Ben Tre
is a sleepy region also known for its warm people and coconut candies. Indeed, Ben Tre is covered with coconut trees. During the war, these coconut palms were used to make coconut oil, which was then used as a precious substitute for kerosene. The green region is also devoted to rice, fruit and fishing.
What to do in Ben Tre?
The orchards
Ben Tre seduces travellers with its fruit haven, in which 41,000 hectares of orchards produce about 375,000 tons of fruit each year. By crossing small narrow paths between orchards and gardens, you will find many fruits from Southern Vietnam, such as mango, durian, rambutan, longana, langsat, mangosteen and citrus varieties.
Plant cultivation was introduced more than a century ago by a French priest, Gernot, who brought the first fruit tree plants from foreign countries, mainly Thailand and Malaysia. After that, the trees first multiplied in the gardens of wealthy families.
Coconut workshops
Ben Tre is considered to be the land of the coconut tree. All types of products are made from the bark, flesh and milk of coconuts: statuettes, sandals, dolls, small baskets, bedside lamps, vases, spoons, hairpins, etc. You can visit a coconut candy factory to see the production and enjoy sweet and tasty candies.
Vam Ho Bird Park
This garden is home to many species of birds (storks, herons, etc.). This is a good opportunity to learn about the lives of thousands of birds.
Islets
While the Phung islet allows you to contemplate many magnificent architectural works, you can also enjoy delicious fruit, fresh food, as well as watch a Don ca tai tu show at Quy islet. And if you just want to escape to a quiet place, the Oc islet will not disappoint you!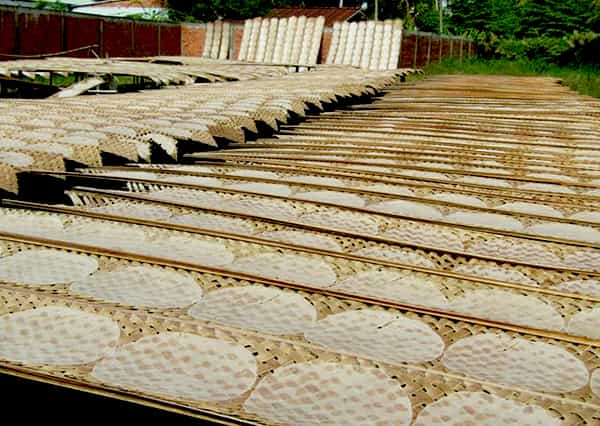 Rice cakes from My Long village
What to eat at Ben Tre?
After a long day of discovery, let yourself be seduced by some traditional dishes from this region. Coconut rice, also known as com dua, is a special dish that is not found anywhere else in southern Vietnam or even in the rest of the country. Rice is usually cooked with coconut juice, which leaves a sweet taste.
The second known specialty is the rice cake My Long, or Banh trang My Long. This type of paper wins an award for its fat, softness and irresistible smell when roasted in a fire. In general, there are types of rice paper, including rice pudding, coconut or egg paper.
Cooked coconut milk gobies, or Ca bong kho nuoc dua, is another type of delicious dish that you should try. After washing the gobies, they are cooked in a jar of coconut milk with a small fire. The dish is ready when there is no milk left. Once cooked, the fish bones are very easily removed.
In addition to these dishes, this destination also stimulates visitors' appetite with many other exotic dishes from Southern vietnam, such as the Son Doc cracker (banh phong Son Doc), sweet chicken and taro salad (goi ga tron tron mon ngot), Vietnamese snail pancake (banh xeo oc gao), crab fondue (lau chao cua dong), sour fish soup (canh chua ca linh), etc.
Some tips during your stay at Ben Tre
It is preferable to avoid the rainy season (May to October), as this period may pose some difficulties during the cruise.
The best time to enjoy tropical fruit is from June to August or after the New Year's holiday, when you will have the opportunity to enjoy the Nghinh Ong Festival or the Phu Le Temple Festival. You should take this into account in order to plan your trip to Southern vietnam as well as possible.