HA GIANG - NORTHERN VIETNAM
BREATHTAKING KARST LANDSCAPES
Located on the border with China in northern Vietnam and spread over rolling hills, impressive karst and green valleys, Ha Giang province offers travellers the opportunity to explore the authentic beauty of Vietnam. Nature lovers and adventurers will love Ha Giang for its unspoilt nature and the diversity of ethnic minorities living in villages connected by steep and winding roads. A unique stopover during your trip to Northern vietnam.
History of Ha Giang
Home to a large number of ethnic minorities, this region has been ruled by several different tribes, including the Hmong and Dao.
In 1886, when the French established one of the largest military bases in Northern Vietnam, they met with resistance from the local population. The first rebellions were quickly suppressed, but the region has always remained opposed to the influence of the French.
While Vuong Chinh Duc was accepted as king of the Hmong at the beginning of the 20th century, the French tried to convince him to tighten their hold on the region. At first, it worked, but Vuong Chinh Duc's successor decided to support Ho Chi Minh in his quest for Vietnamese independence.
Nowadays, Ha Giang is a quiet province in northeast Vietnam. Ethnic minorities still constitute the majority of the population and make this region an exciting and interesting place to visit for travellers wishing to learn more about rural Vietnam and the country's cultural diversity.
When to Visit Ha Giang?
Ha Giang has two main seasons: the rainy season from April to October and the dry season from November to March.
Outside these seasons, Ha Giang offers a different perspective at each time of the year. For example, if you come between January and March, you will see the hills and mountains that return to life after their winter sleep. The peach and plum blossoms add points of white and pink to the green hills, offering a magnificent view.
In April, you can attend Khau Vai's Love Market, a special event that takes place only once a year. On that day, people from all over the province come to sell their products in a shade of colour. Check the exact date of this year, because it depends on the lunar calendar and therefore it changes every year.
From May to July, farmers irrigate their rice fields, giving the landscape a rich and vibrant green.
In September and October, the rice matures in the fields and is almost ready for harvest. At that time, the rice fields turn yellow and sneak through the mountains like golden ribbons.
November brings the flowering season of buckwheat. It is at this time that the small pink flowers of the fields create a beautiful contrast with the grey mountains and surrounding green forests.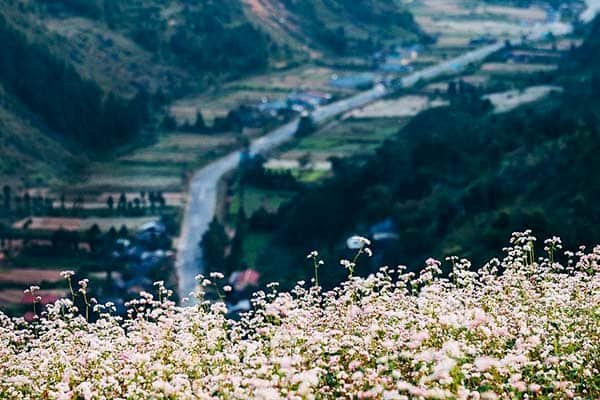 Buckwheat blossom in Ha Giang
From the end of November to the end of the year, there is a risk of snow. Did you think you would find snow during your trip to Vietnam? In the north, this could happen! Even if you don't see any snow, the province is beautiful in winter. A thick mist floats around the hills and gives you the impression of living in a completely different world. If you travel to Ha Giang during this time, make sure you bring warm jackets, long pants and good shoes.
What to see and what to do in Ha Giang?
Thon Tha village and waterfall

In this village of about 500 inhabitants, there are many host families and many locals who speak English. Many villagers manage their own farms and live in traditional houses, renting their rooms to travellers. It is the opportunity to sleep in a house on stilts overlooking green rice fields and to wake up with the crow of the rooster. A few steps from the city, you will find a beautiful waterfall that will offer you a refreshment after a hike.
Khuoi My and Tay Con Linh Mountain
If you are looking for a trekking experience, head to Khuoi My village on Tay Con Linh Peak. Walking in the mountain paths, the Ha Giang countryside reveals itself before your eyes and offers a breathtaking view of the rice fields, forests and surrounding mountains.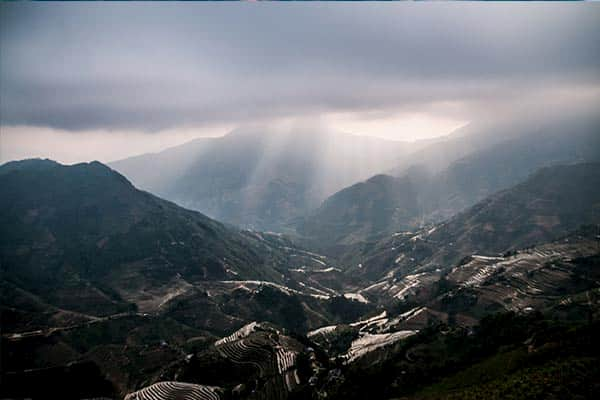 Road to Mount Tay Con Linh in Ha Giang
Ma Pi Leng pass and gateway to paradise
As you head east from Ha Giang to Dong Van, you will begin to see the landscape change for what you may have seen on postcards from Northern vietnam. The endless rice fields give way to the famous limestone mountains, deep canyons and rocky structures that make this province so unique. All this is part of the Dong Van Plateau, a geopark recognized by UNESCO.
You will then head towards the Quan Ba Valley, where you will see the famous mountains, two rounded hills located in the middle of a flat valley. If you have extra time, you can go for a hike and a visit.
Further along the way, you will arrive at Ma Pi Leng Pass, an impressive region with an endless view of the Nho Que River, its canyon and the steeply rising mountains on either side. Take the time to stop along this road to admire the view.
Dong Van
It is worth spending time in Dong Van, the largest city in Ha Giang province because there are many things to see and do. You can start by exploring the old quarter in downtown Dong Van. It looks like a large courtyard surrounded by traditional houses. Today, many of them have been transformed into coffee shops and souvenir shops.
Once you get tired of the city, you can climb a nearby hill to find the ruins of a French fort called Don Cao. From there, you will also have a breathtaking view of Dong Van and the surrounding countryside.
Not far from Dong Van is the village of Lung Tam, where people from the Lo Lo, Hmong and Han tribes live together. Craftsmen create beautiful local handicrafts, such as hand woven coloured fabrics.
About 90 minutes from Dong Van, another incredible view awaits you: the Lung Cu flag tower. It is a huge mast located very close to the Chinese border. You can climb and enjoy a breathtaking view of the green hills, rugged mountains and steep slopes.
Sa Phin
Sa Phin, which houses an important historical site, King Hmong's Palace, is a short drive from Dong Van. It was built in the 1920s for Vuong Chinh Duc, also known as King Hmong.
The palace is an interesting building with elements of European and Chinese style and was one of the most luxurious residences in the region. Richly decorated with beautiful flower sculptures, the palace was often visited by dignitaries and important businessmen.
Sung La
Near Sa Phin, Sung La, another small Hmong village also deserves a stop, as its flower fields are very popular. To help visitors take beautiful pictures with flowers, some residents have created plots with small "flower meadows". There, you can pose for a small amount of money.
For a real meadow dotted with wildflowers, simply head for the outskirts of town. There, you will have plenty of room for yourself and can enjoy the smell of all the flowers around you without the crowd.
Local cuisine to try
Of course, Ha Giang has its own tasty foods that you should absolutely try during your visit. Your hosts at home will probably provide you with local treats and others can be found in the stands at the markets.
Each minority has its own specialities, so prepare your taste buds for a unique experience!
For an appetizer, try trung cuon, steamed egg, with dip sauce. In cold weather, you may want to choose tau chao, a nutritious soup. It doesn't sound very appetizing, but its taste is delicious and surprising.
Thang co is another dish you should try. It is made of small pieces of pork mixed with lemongrass and cardamom for a unique flavour. You will find thang co in many markets where it is served with spicy chili flakes.
One of the favourite dishes of tourists and residents is the sticky rice cooked in bamboo (com lam). The rice is seasoned before being poured into a bamboo tube. Then it is charred for about an hour. Both hearty and tasty, com lam is a good dish after a long hike.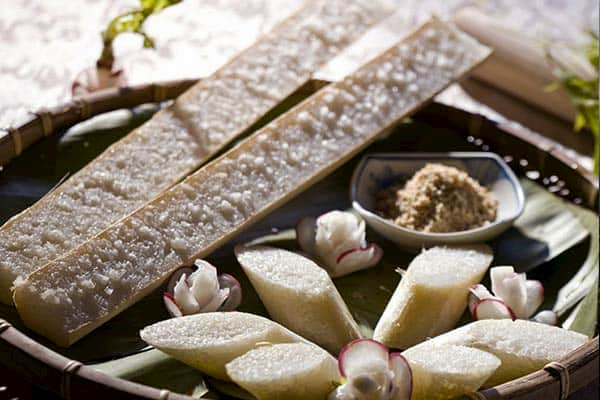 Com lam - specialty of Ha Giang
Roasted seaweed is another specialty of the region. Tay are experts with this ingredient, grilled, steamed or fried.
These are just some of Ha Giang's famous dishes. To find out more, just go there and discover them for yourself!
Some tips during your stay in Dong Van
- If you like adventure, head to Ha Giang on your own motorcycle. The 300 km trip will take you most of the day, especially if you want to make a few stops along the way to admire the scenery.
- The cities around Ha Giang are known for their colourful and interesting markets. They usually take place on Saturdays or Sundays, or even on a weekday. To include at least one in your itinerary, ask your guide what market he recommends and plan your trip to Northern vietnam so that you have time to explore it. Popular markets in Ha Giang include Dong Van, Meo Vac and Tam Son.