PU LUONG - NORTHERN VIETNAM
IDEAL PLACE FOR ECOTOURISTS
Pu Luong is a nature reserve and a perfect place for nature lovers who wish to escape the hustle and bustle of the city and immerse themselves in the mountains of northern Vietnam, with villages and huge valleys of terraced rice fields. In addition, the discovery of a less visited place like Pu Luong allows you to get off the beaten track and enjoy the local life.
When to Visit Pu Luong?
The best time to travel to Pu Luong is between February and May or September to November, when the rice harvest season is in full swing. This is the ideal time to fully appreciate the terraced fields and green landscape that offer the opportunity to take breathtaking photos. In addition, the weather is pleasant at this time of year with a temperature between 15 to 30 ° C. The warmest period is from June to September, with temperatures reaching 38°C, while winter (November-February) can be cold.
What to do in Pu Luong?
Trekking
The trekking in Pu Luong will attract tourists who are looking to relax in nature and explore the mysterious beauty of this region. There are many scenic roads to admire the pristine landscapes. Hiking enthusiasts can embark on multi-day excursions on the least visited trails to cross several villages or go to the summit of Pu Luong. A more serene option is a route of about 5 km through the small hamlets.
Take pictures of rice terraces
Northern Vietnam is an ideal place for photo stays. Photographers will be delighted to be able to capture the unique landscape that they cannot find anywhere else. Pu Luong will never disappoint you with its blue sky, pristine nature and colorful ethnic culture.
Kho Muong Village
Kho Muong is the ideal starting point for hikes through Pu Luong. In addition to the sites and majestic nature, tourists will also have the opportunity to explore the mysterious cave system.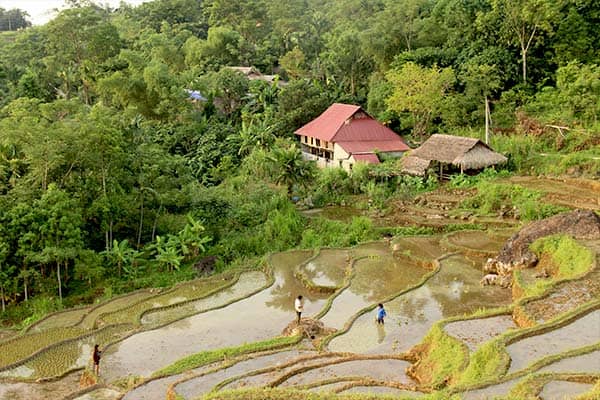 Village in Pu Luong
Waterfall in the village of Hieu
When coming to Pu Luong, you should not miss a place called Hieu Waterfall Village. On the way from Pho Doan city to the village, tourists can admire the landscape of bamboo water wheels.
Bicycle
It is a really pleasant and authentic way to explore the different corners of Pu Luong. Energetic cyclists can ride the isolated trails and steep valleys that follow a very scenic route. Similar to hiking routes, there are several options with a moderate to advanced level of difficulty.
Kayak
The Pu Luong River is an ideal place for kayak enthusiasts, especially when the rainy season arrives. A trip along the river offers a beautiful landscape with green farmland, bamboo wheels, houses on stilts and a beautiful river landscape.
In addition to kayaking, it is also possible to do rafting on simple bamboo rafts. The Cham River is extremely peaceful and allows you to enjoy the local agricultural life.
Relaxing
For travellers who simply want to relax, Pu Luong can represent your retirement without stress. The harmonious and pure local atmosphere is perfect for relaxing and relaxing.
Pho Doan Market
You can easily buy special products from a mountain region such as brocade cloth, wine, forest vegetables, insects, fresh fruit or souvenirs from your trip to Northern Vietnam.
Enjoy specialities
Your host will prepare special dishes that are only found in the mountainous regions of Northern Vietnam such as sour bamboo shoots, sticky bamboo rice, duck or roasted boar.