NGOC SON NGO LUONG - NORTHERN VIETNAM
RESPONSIBLE TOURISM IN AN INCREDIBLE NATURAL RESERVE
Ngoc Son Ngo Luong nature reserve, located southwest of the capital Hanoi, is a real haven of peace and a fascinating destination for all nature lovers and authenticity in Northern Vietnam.
This nature reserve is located between Pu Luong in the west and Cuc Phuong in the east. The nature and landscapes on site are still extremely well preserved because the Ngoc Son Ngo Luong reserve was only opened to the public in 2010. In addition, access is mainly by car or during a motorcycle trip in northern Vietnam. You will therefore not find hordes of tourists and visitors on the spot, but rather trees within forests that represent 78% of the surface area of the nature reserve.
What to do in Ngoc Son Ngo Luong?
Landscapes and sports activities
As mentioned above, the Ngoc Son Ngo Luong nature reserve has superb natural landscapes that are worth discovering: rice fields, mountains, rivers,... To do so, you have a choice between several options.
Of course, you can also hike through different paths. There are many possibilities and there is something for everyone. Whether you are an amateur or an experienced hiker, you will inevitably find a hike adapted to your level and your pace to explore Ngoc Son Ngo Luong as close as possible to nature.
Concerning the two wheels, it is possible to travel a large part of the nature reserve by motorcycle or bicycle, depending on your desire of the moment. You will then have a feeling of absolute freedom by moving in the heart of an authentic nature and very far from mass tourism.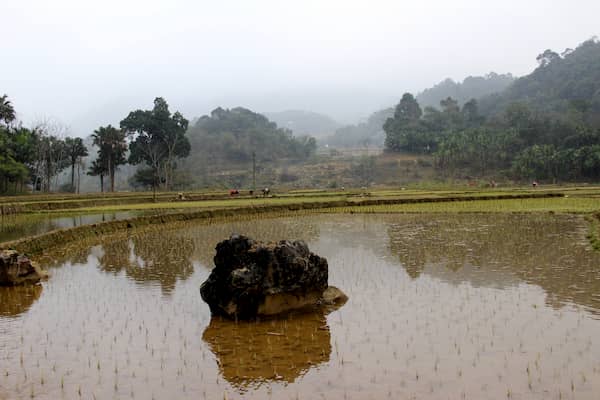 Rice fields in Ngoc Son Ngo Luong
Discovering the Muong ethnic group
Ngoc Son Ngo Luong Nature Reserve is 90% populated by the Muong ethnic group. By exploring the area you will have the opportunity to visit various villages typical of this ethnic minority and discover their traditional houses, customs, daily life,... You will also have the opportunity to spend a night with the inhabitants of this ethnic group in Northern vietnam. You will then share the cottage and the meal (while participating in its development) with the locals, which will represent for you a moment forever etched in your memory, and you will better understand why it is very important to continue to preserve this place and protect the Muong territory.
Recharge your batteries in the heart of Northern vietnam
Ngoc Son Ngo Luong is also an ideal place to recharge your batteries and relax during a trip to Vietnam. In addition to enjoying fresh air and unspoilt calm, you will have the opportunity to swim in the many waterfalls and rivers in the nature reserve. Depending on the season, you may even have the chance to see children of the Muong ethnic group having fun in these natural pools.
Some tips during your visit to Ngoc Son Ngo Luong
- During your presence on site, do not hesitate to taste the various local specialities that will be offered to you: water snails, goat meat, rice alcohol,...
- Located in Hoa Binh province, it takes about 4 hours by car to get to Ngoc Son Ngo Luong from Hanoi