NGHIA LO – NORTHERN VIETNAM
A PERFECT PLACE TO RECHARGE YOUR BATTERIES, IN THE HEART OF NATURE AND FAR FROM MASS TOURISM
Nghia Lo is a city located in northwestern Vietnam, in the province of Yen Bai. The city is located in the Muong Lo basin, which is the capital of the Thai ethnic minority and also the second largest rice granary in the northwest of the country. Nghia Lo is a place to recharge your batteries and enjoy nature in peace and quiet because the destination is rarely visited by tourists.
What to do in Nghia Lo?
Contact with ethnic minorities
Your stay in Nghia Lo will allow you to visit traditional villages of different ethnic minorities in northern Vietnam. Indeed, if the Thai represent the largest part of the local population (44%), 17 ethnic groups are present in Nghia Lo (Kinh, Muong,...). You will thus have the opportunity to spend a night with the locals, most of the time in houses on stilts, to discover the different lifestyles and traditions of these many minorities.
The Thai, for example, are famous for their flooded rice cultivation, their houses made of bamboo and iroko wood, or their Xoe dance (part of the national intangible cultural heritage), which you may have the chance to observe during a demonstration.
Rice terraces
During your stay in Northern Vietnam, you can also walk around many rice fields. Indeed, flooded rice has been cultivated for hundreds of years in Nghia Lo, notably by the Thai.
Swimming in hot springs (thermal water)
Hot springs are available only a few kilometres from the centre of Nghia Lo. These sources would have positive effects on health (for the skin and against diseases), while allowing to enjoy a moment of relaxation, in a calm and pleasant atmosphere, characteristic of Northern vietnam.
The downtown market
This market was once the largest market in Northwestern Vietnam. Today, it is still important and allows you to buy different goods. A special feature of this market is the possibility of acquiring traditional agricultural and livestock tools produced by the local people.
Follow Giang and the tea trees
A few kilometers from the center of Nghia Lo is Suoi Giang. On the way you will have the opportunity to visit the gardens and tea trees, a speciality of the region but also of Northern vietnam. Some trees are several hundred years old. The setting you will enjoy thanks to these gardens is very soothing.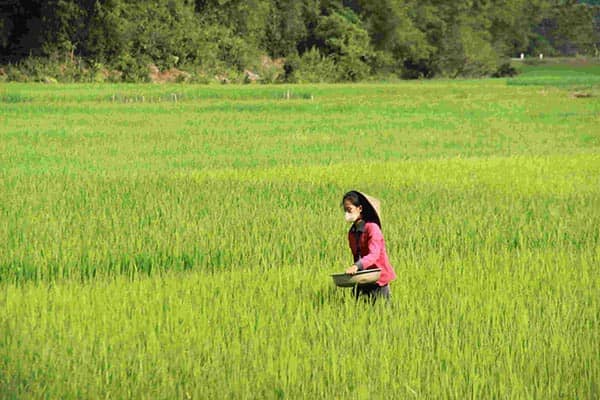 Countryside in Nghia Lo
Cycling around
A simple bike ride around Nghia Lo is an excellent activity that allows you to discover all that the region has to offer. This is an excellent solution to travel the region at your own pace while making the most of every moment.
Gastronomy in Nghia Lo
The different ethnic minorities of Nghia Lo offer several culinary specialities from Northern Vietnam, including 5-coloured sticky rice, snakehead fish noodles, rice cooked in bamboo, sticky rice alcohol, Suoi Giang tea,...
Some tips during your stay in Nghia Lo
- The region offers several vistas that you can discover by chance during your exploration in Northern Vietnam. Don't forget to stop to enjoy it, whether it's to take beautiful pictures or just to enjoy the moment!
- In the downtown market you can buy original souvenirs and gifts to take back to your family or simply to remember your trip to Vietnam.