MOC CHAU – NORTHERN VIETNAM
IMMERSE YOURSELF IN THE HEART OF TEA PLANTATIONS AND MINORITY ETHNIC GROUPS
Moc Chau is the widest plateau in the mountainous region of Northern Vietnam. This place attracts visitors with its villages, beautiful flowers, tea plantations and fresh air.
What to visit in Moc Chau?
Dai Yem Waterfall
The Dai Yem waterfall is also known as the Lady Waterfall (Thac Nang) or Ban Vat Waterfall. It is ideal to visit it from April to October when the flow is powerful and impressive, while being embellished by the dazzling white foam.
Pha Luong Summit
The summit of Pha Luong is located near the border between Vietnam and Laos, reaching an altitude of nearly 2000 meters. You will have to walk at least four hours to conquer this summit. As you reach the peak, you can stand on huge boulders stacking against each other to see the clouds, forest and villages of both countries.
Heart shaped tea hills
Moc Chau offers several tea hills that have the shape of hearts when viewed from above. All the photos taken there will be well captured in a green and romantic way. These tea hills are often considered to be the most beautiful in the country. On site, the locals will be able to show you different stages of tea growing and making, and you will have the opportunity to share one with them during a moment full of emotions.
Ang Village
Located in the heart of the city of Moc Chau, the Ang village, which extends over 60 hectares of greenery, is intended for camping, accommodation with minorities in Northern vietnam or pure relaxation. In addition, if you have the chance to spend the Independence Day there, this village will have more to offer than the pine forest because it is selected to organize many cultural activities such as the "Het Cha" festival, cooking festival or brocade exhibition.
Ngu Dong Ban On (the five caves of the village)
Particularly suitable for trekking fans, Ngu Dong Ban On brings together five caves that symbolize the five basic elements of oriental culture (Metal-Wood-Water-Fire-Terrestrial). Another merit of this attraction is that, on your way, you will be able to discover directly the life of the Thai minority in the most authentic way possible.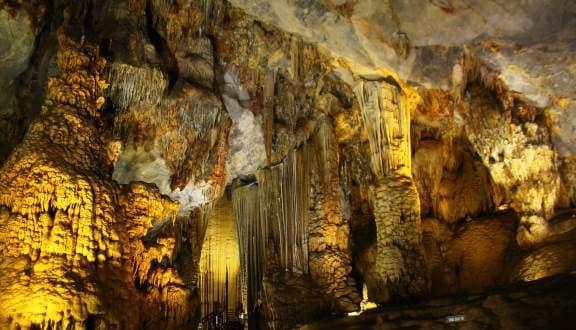 Ngu Dong Ban On Caves in Moc Chau
Happy Land
Recently popular with residents and tourists alike, the newly built Happy Land farm will add even more pleasure to your trip, as its name suggests. In Happy Land, you can see the flowers all year round and participate in many activities.
What to eat at Moc Chau?
Moc Chau is famous for being the region of cherry blossoms, white rape, plum tree. There is yet another jewel hidden in Moc Chau: the dishes.
Milk
Moc Chau's fresh milk is creamy and nutritious. Starting a day with a cup of warm milk in the cool morning is an undeniably beneficial sensation.
Five-colour sticky rice
The inhabitants of Dao add five colours to the rice mixed with a range of plant leaves, creating an irresistible dish for the inhabitants but also for tourists travelling to Northern vietnam.
Vegetable Cai meo
The taste is a little bitter at first but it will soon pass, leaving a sweetness in the mouth. Although Moc Chau's Cai meo can be used for fondue, its favourite style is easy boiling, then served with a bowl of soy sauce or fish sauce.
Buffalo meat
Moc Chau's speciality, thit trau gac bep, originating from the Thai minority, is never lacking in Moc Chau's major events such as the New Year or weddings.
Grilled stream fish
Grilled fish is tasty, served with a spicy fish sauce or chili sauce. It is strongly recommended to eat fish grilled with sticky rice, which will surely amaze the dinner.
Veal meat
The veal is sautéed in hot oil in the pan, giving off an irresistible taste that appeals to all passers-by.
Fishing
At the end of May, the Moc Chau fishery is sold by street vendors along National Road 6. This fruit gives a pleasant sensation of sweetness and a slight sour taste, a refreshing taste with every bite.
Some tips during your stay at Moc Chau
Flower calendar of Moc Chau
January - February: Plum blossom
February: Peach flower
March: Orchid flower
October - November: Mexican sunflower
October: Buckwheat flower
November - December: White rape
December - January: Yellow rape
Choose your period carefully to organize your trip to Northern Vietnam.