Why choose Vietnam for your motorcycle road trip?
With its
3,000 kilometers of tropical coastline
,
exquisite gastronomy
and
fascinating culture
, Vietnam is an
excellent destination
for a
motorcycle road trip
. Visiting Vietnam on a motorcycle always brings exciting experiences. The most remarkable advantage of this type of trip is flexibility. With your bike, you can conquer all tracks, whether muddy or winding roads that take you to places inaccessible by car. The bike will allow you to discover remote places and very little visited by tourists who have no other way to access! You are closer to nature and can enjoy the various shows that are available to you during your motorcycle road trip.
Unique culture
On a motorcycle trail, we stop at several ethnic villages to discover local life. Some places are almost isolated from contemporary life. You will be able to feast in a world rich in colors with the traditional customs of the local inhabitants.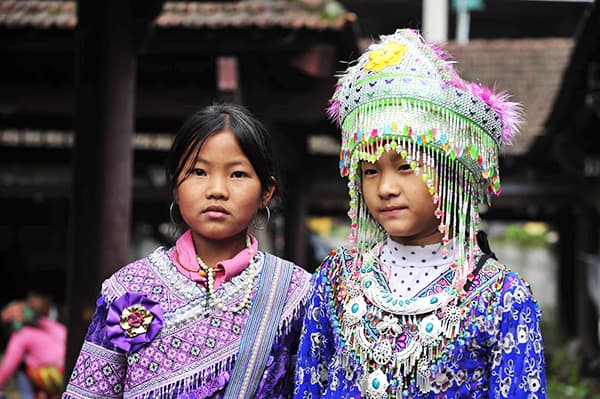 Welcoming inhabitants
Vietnamese people can be among the
friendliest
and
most accommodating
people you will find in Asia. You are always welcomed with smiles. While crossing the villages, the inhabitants wave the hand, the children run behind you to say Hello. The hospitality of the locals is indeed limitless and no doubt that after your various meetings with them during your
motorcycle road trip in Vietnam
, you will leave with memories engraved in your memory forever.
Delicious food
Street food
is a treasure of Vietnam. Stop at one of the food stalls on the sidewalk, grab a small plastic stool and sit down. What you will get next is simply divine. From soup pho to banh mi, spring rolls, seafood,
Vietnamese cuisine
is always tasty and fresh.
Diverse activities
In addition to the beautiful sites and landscapes, we are never bored in Vietnam with
many things to do
. Go hiking in the traditional villages when you visit
Sapa
. Kayaking, swimming and relaxing at
Halong bay
. Scuba diving, snorkelling and windsurfing are all viable options when traveling to
Nha Trang
and
Phu Quoc
. If you like cities, watch traditional dance and water puppet shows or take a cooking class. There is an infinity of activities for all tastes.
The flexibility of a motorcycle road trip in Vietnam
It is also important to note that doing a motorcycle road trip in Vietnam offers great flexibility in terms of both schedules and pace. Indeed, on the bike you are free to move at the speed you want, to take breaks when you want, alternate with walking, take photos,... The motorbike allows you to be totally free and independent during your road trip, which is often the goal when you make such a trip. Do not worry, whether you are a beginner or confirmed rider, anyone can enjoy such a trip. The winding roads are not your enemy, on the contrary they will offer you unique emotions and sensations!
The motorbike also provides easy access to villages and homes of different ethnic minorities that populate Vietnam, and you will have the opportunity to interact with them, learn more about their daily lives and customs and even share the house and sleep at home!
If you are interested in such a road trip, do not hesitate to contact us. Our Vietnam Exploration agency is indeed specialized in motorcycle trips in Vietnam. Our team is passionate about Vietnam and motorcycle tourism, and we put at your service all our experience for many years to offer you a motorcycle road trip in Vietnam to measure.