Homestays in Northern Vietnam
A night in a host family is probably one of the best options for traveling in Northern Vietnam. Here is a general description of a homestay night in Northern Vietnam.
House and rooms
A night in a homestay in North Vietnam is always an excellent experience as the houses are often the traditional houses of ethnic Thai, Dao, Hmong, ... built in wood with columns. The ground floor is where you eat, with the kitchen room, the toilet, the bathroom. The upper floor is a large space used as a common room for guests. There are cushions, blankets, mosquito nets and curtains that separate each corner to sleep. Around the house there are gardens, ponds and barns.
To walk around the house, it is best to take off your shoes and slip into flip-flops.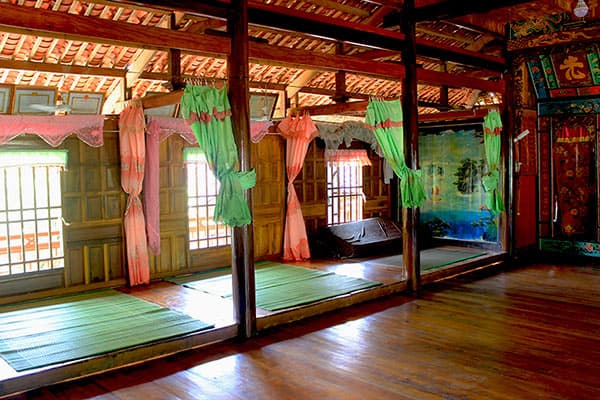 Bathroom and toilets
Homestay bathrooms and toilets are usually small and simple, but have amenities like toilets, sinks, showers, and hot water.
Meal
Meals are prepared by the owners of the host family with fresh, seasonal and local ingredients. Breakfast is either a simple Vietnamese dish (banh cuon - ravioli, fried rice or vermicelli soup) or pancakes.
Lunch and dinner are served "in the style of the family" - large shared plates placed in the center of the table. These meals typically include pork, chicken and fish, as well as various vegetable dishes. Spring rolls, tofu and eggs are also often on the menus. If you are a vegetarian, it is best to give notice to your host family.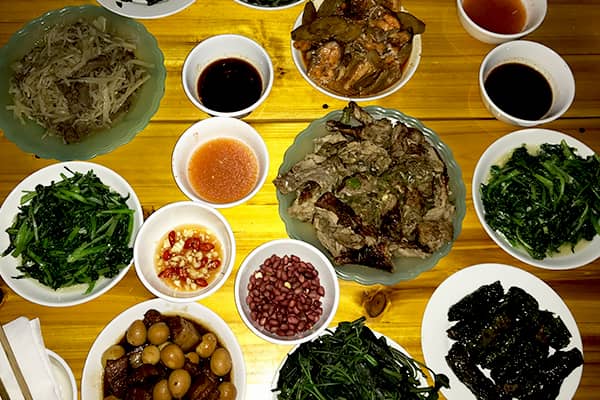 Rice alcohol is served at every meal. Owners are often enthusiastic about inviting visitors to drink with them as it is a sign of hospitality. An excellent time of sharing during your night at the inhabitant.
Inhabitants
The inhabitants of the minorities can be described as welcoming but rather shy. Few people speak English. You can ask to cook with them or to play with the children. The more you participate and the more your night's experience at homestay in North Vietnam is rich.
Activities
- Preparation of dishes
- Walk in the village
- Foot bath
- Discovery of agriculture, breeding, brocade weaving,...