TRA QUE - CENTRAL VIETNAM
AUTHENTICITY IN THE TRUE SENSE
Tra Que
is a small village in central Vietnam located 3 km from the old quarter of the city of
Hoi An
, renowned for its
organic agriculture
. It is a very interesting village to visit because the local farmers practice
techniques of ancestral and historical cultures
. Thus, there are no machines or GMOs in Tra Que and the harvest is destined for the local market. A village of this kind is therefore extremely rare and its visit is enriching to have a different vision of agriculture as we know it today.
History of Tra Que
The village of Tra Que has been in existence for 300 years. At the time, the main local activity was fishing, but very quickly this was no longer sufficient to meet the needs of the population. The inhabitants then turned to other activities, in particular market gardening. Indeed, the village is surrounded by the De Vong River, which provides the village with seaweed that serves as a natural fertilizer for agriculture. Local market gardening was thus exclusively based on natural and organic methods, and it is these same methods that are still applied today.
With its 40 hectares of fields, this village in central Vietnam cultivates about 20 different kinds of vegetables and herbs renowned for their unique flavours, which would be due to the methods used to cultivate them. Nearly 8 tons of vegetables produced in Tra Que are sold each year, notably to various restaurants in Hoi An.
What to do in Tra Que?
The village of Tra Que is open to visitors, to the delight of tourists who are increasingly seeking authenticity and responsible tourism.
Tourism is the village's second largest source of income, just after agriculture. To get to Tra Que, the most common way is by bike, only the two wheels being passable inside the village. After a nice walk in the countryside, we arrive at the village where we can visit the different fields. These visits are always appreciated because the village is located in a very quiet environment, with an authentic aspect that can be found in the methods used but also in the atmosphere prevailing within the village.
The advantage of the village is also the fact that it is possible to participate in agricultural activities. Indeed, alongside local farmers, one can engage in working sessions with local ancestral methods. Various stages are then available to us: sowing, picking, mowing, watering,...
We will then use traditional tools, such as the double watering can (and we quickly realize that it is a very difficult job).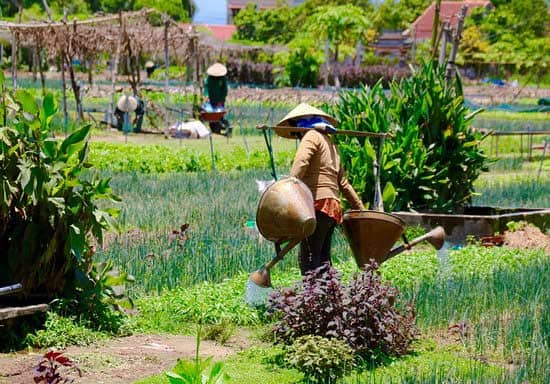 Farmers in Tra Que
In addition, it is possible to take a private cooking course and cook a local speciality with a local cook, especially in some restaurants that have opened on site in response to the increase in the number of tourists.
In Tra Que lives the most famous couple of Hoi An. This is Lê Van Se, born on February 2, 1923 and his wife Nguyen Thi Loi. Together for 67 years, they have both had a difficult life. He was captured, imprisoned and tortured by the French army during the Indochina War because he was suspected of being part of the army, while he was only bringing supplies to the Viet Cong. He was released but the story repeated itself with the American army during the Vietnam War. In addition, he lost two younger brothers during that same war, while Loi was also detained for a while by the American army because she was the leader of the women who were fighting for the liberation of Vietnam.
Despite all this, he declares that he has no hatred towards the French and Americans, that this is the past and that he has forgiven over time. In addition, despite his age, Se continues to work, harvest and sell his vegetables. He is also the oldest man in Tra Que and is extremely respected.
Tra Que offers an authentic setting unique to this unique village, which appeals to everyone, locals and visitors alike.
Some tips during your stay in Tra Que
- In addition to the activities mentioned in the article, it is also possible to enjoy a buffalo ride.
- Take the time to enjoy the many rice fields during your walk and when you arrive in the village by bike. This small village has a lot to offer you on your trip to Vietnam.
- Some fishermen on site sometimes offer to go down the river by boat.