DALAT - CENTRAL VIETNAM
A UNIQUE PLACE AND AN OWN IDENTITY
Dalat
is a city located on the high uplands of
Central Vietnam
. It is also the capital of Lam Dong province. Dalat is about 300km from Saigon by road but, at an altitude of 1,500m, has a climate that could be categorized as more mountainous.
You can feel in this city a great French influence and a unique atmosphere that distinguishes Dalat from other destinations in Central Vietnam but also in the rest of the country.
History of Dalat
As mentioned above, French influence is very present in Dalat. This is mainly due to the fact that the climate is similar to that of France, so during the French colonization of the 19th century, the French settled here.
Doctor Alexandre Yersin discovered this region. Thus, French soldiers and civil servants could take advantage of the climate that was familiar to them to rest, compared to the more unusual and harsh climate present elsewhere in the country. In addition, the altitude of the region as well as its accessibility and the presence of water made it a strategic choice.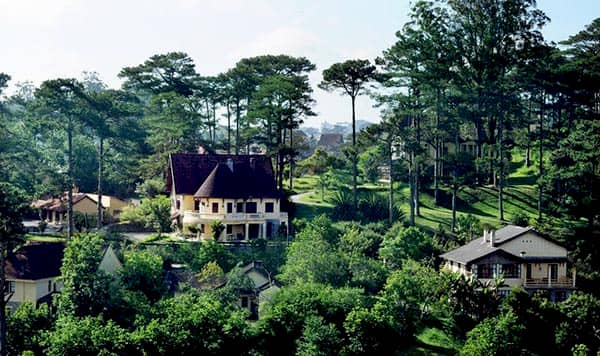 French villas in Dalat
Dalat is nicknamed "city of eternal spring", with an average temperature that does not exceed 25°C in summer and does not fall below 10°C in winter. This climate is explained by the altitude of the city, and allows it to enjoy a wide variety of fruits and flowers.
Thus, Dalat ended up representing the main climatic station in French Indochina, and its Latin motto was "Dat Laetitiam Aliis Aliis Aliis Temperiem", which means "It gives some joy, others good times. »
The French influence is strongly reflected in the architecture of this central Vietnamese city. Dalat's Saint-Nicolas Cathedral, built in a Romanesque Revival style, is home to Norman villas, Basque houses and Savoyard chalets. The objective of the original growth plan (in 1900) was to build infrastructure, villages, modern buildings, paved roads, transport roads and a railway in order to truly serve as France's pied-à-terre. Paul Champoudry, the city's first mayor in 1905, also wanted to centralize administrative public services in a single district and create a market in the city centre. Then, through the work of several French architects and authors, the city benefited from different stages of urban planning and experienced significant growth in order to give Dalat the appearance of a French city. In addition, the city station is very strongly inspired by the Deauville station, a French commune.
What to do in Dalat?
The pagodas
The Linh Phuoc Pagoda dedicated to Mahayana Buddhism is located at the entrance to the city. There are several reconstructed scenes of Buddha as well as beautifully decorated sacred monuments. This pagoda also has a 37 m and 7-storey tower. The bell in this tower, 4.3 m high, 2.3 m in diameter and 8.5 tons in diameter, is considered to be the largest in Central Vietnam but also in the whole country. Another famous element of this pagoda is the statue of the Bodhisattva, composed of 600,000 flowers.
There is also another pagoda in Dalat, the Thien Vien Truc Lam pagoda, which has magnificent gardens and offers a much appreciated serenity. This pagoda can be reached by a 15-minute cable car ride over a pine forest. This route, like the visit to the pagoda, is very quiet and relaxing.
Finally, Van Hanh Pagoda is also interesting, especially for its golden Buddha statue, 24 m high and 20 m wide.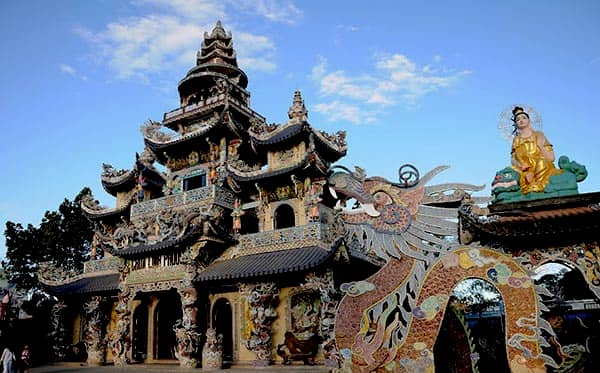 Linh Phuoc Pagoda in Dalat

Domaine de Marie
It is a Catholic convent built by the Congregation of the Daughters of Charity of Saint Vincent de Paul between 1930 and 1940. This convent welcomed refugees from North Vietnam in 1954, after the communists took power. In the past, more than 300 Sisters cared for kindergartens and an orphanage. Today, Vietnamese Sisters take care of disabled children but also sell handicrafts, fruits and sweets. The chapel is 33 m long and 11 m wide.
Dalat Market
Rather in the city centre, you can also enjoy the Dalat night market. The market offers a very pleasant atmosphere and allows you to taste many different dishes (Vietnamese pizza,...) but also to buy clothes and souvenirs.
Dalat Station
The old Dalat station, which is no longer functional except for a tourist train to Linh Phuoc Pagoda, can also be visited. This allows you to take original photos and drink coffee in a car.
The waterfalls
Dalat is also famous for its waterfalls, especially the Datanla waterfalls. You can admire them by walking down or down with a trolley on wheels.
Crazy House
The Crazy House can also be interesting to visit. It is a house with stairs and tunnels, all in an unusual setting.
Some tips during your stay in Dalat
If you opt during your trip to Vietnam for a motorcycle ride in the Dalat region, you may have the chance to see some of the local people working in the fields.